Bio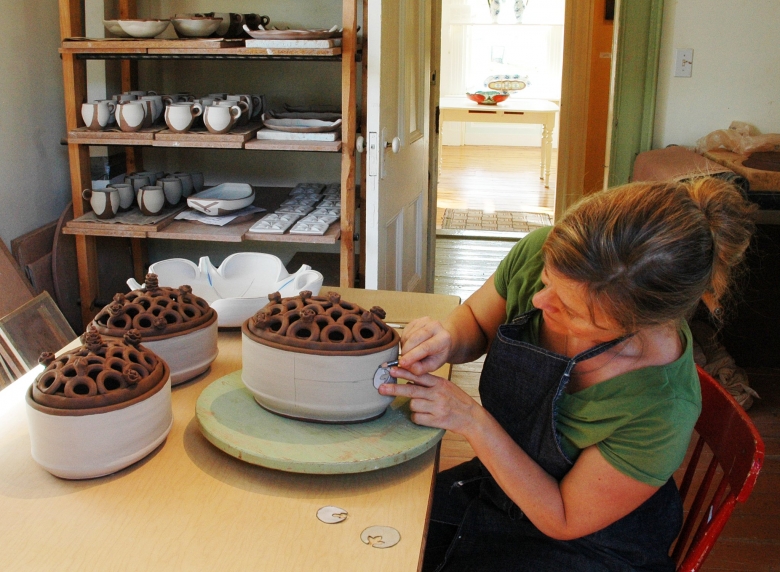 Joan Bruneau is a professional Studio Potter and sole proprietor of Nova Terra Cotta Pottery in Lunenburg, Nova Scotia, Canada .
Joan was born in 1963 in Halifax, Nova Scotia. Her love of travel and food sparked her desire to become a potter, after discovering the authentic cuisines and pottery traditions of Europe while back-packing in 1983-84. She went on to earn her BFA from NSCAD University in 1988, and MFA from the University of Minnesota in 1993. Joan established Nova Terra Cotta, her studio/strorefront in Lunenburg, Nova Scotia in 1995. Joan was Assistant Professor at Emily Carr University ( Vancouver, BC) from 1998-2002 and has been Regular Part-Time Ceramics Faculty at NSCAD University since 1995.
Her work is exhibited throughout North America and is in recognized private and public collections, including the AGNS, Canada, Sykes Gallery, USA and Jingdezhen Ceramics Institute, China. Joan was the 2009 recipient of the Established Artist Recognition Award from the Nova Scotia Arts and Culture Partnership and the 2005 recipient of the Winifred Shantz Award which funded her residency at La Meridiana Ceramics Residency in Italy in 2005.
She teaches workshops across North America and has taught in the Distance Ceramics Diploma Programs at the Australia National University and the Glasgow School of Art. Joan is a Demonstrating Artist at NCECA in Pittsburgh, 2018.
Joan's work is also published in current Ceramics publications such as the 2014 April CERAMICS MONTHLY Feature Article "Idyllic Place: The Work Of Joan Bruneau" by Andrea Marquis.
Mastering The Potters Wheel by Ben Carter
100 Cups: The Clay Studio by The Clay Studio
Jars, Vases, Boxes, and Baskets Ceramic Arts Handbook by the American Ceramics Society
Hear Joan in the following podcast interviews, 2016 Potter's Cast Podcast Interview with Paul Blais and 2015 Episode #109: Tales of a Red Clay Rambler, with Ben Carter.