Artist Statement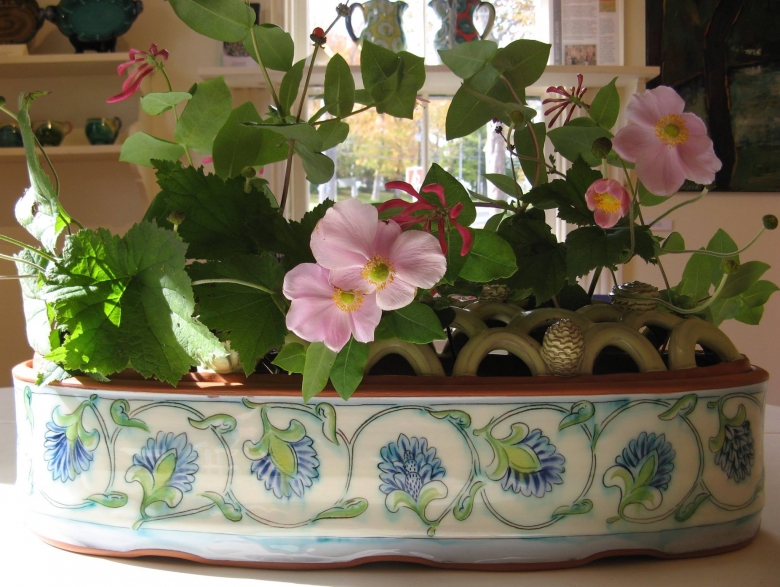 "Have nothing in your house that you do not know to be useful, or believe to be beautiful." William Morris
Like many aesthetes, I live by William Morris's well-known aphorism.
The objects in my home, including my pottery collection, fulfill their ergonomic promise as much as they perform as meaningful objects of beauty when at rest on display. The potent thing about "use" or "function" is that it's life affirming, fosters presence of mind and connects us to others. Cooking, presenting and sharing a meal, foraging and arranging a bouquet are simple yet deeply satisfying rituals that bolster our humanity.
My intent as a studio potter is to engage the viewer to interact with my pots by way of their sensual forms and lush patterned surfaces. The pots function as decorative objects to be activated through use. Interaction with the viewer/user completes their aesthetic potential as they contain, deliver or present food and flowers. Preparing and presenting an inspired meal or arranging flowers in a specific container, affirms our connection to identity, while elevating domestic rituals from banal to beautiful.
Notions of beauty are contingent on personal taste as well as cultural and societal trends. The climate of globalization, big box consumerism, industrial agriculture and social media perpetuates homogenous tastes and a disconnect with our sense of place, while movements such as Slow Food, the 100 Mile Diet and the resurgence of "Buy Local , Buy Hand-Made" signal a need for connection to place of origin and choice of quality over quantity. Regionalism influences my lifestyle choices and artistic aesthetic. I am fortunate to live and work in the small coastal heritage town, Lunenburg , a UNESCO World Heritage Site in Nova Scotia, Canada. This sparsely populated region is known for its pristine coast, unique heritage architecture, arts community and excellent farmer's market. Four distinct seasons and access to sourcing groceries and flowers from local farmers or foraging has influenced the development of my color palette and forms with the intent of enhancing the presentation of specific colors and textures of cooked versus raw foods and floral arrangements.
Using Lantz clay, the red earthenware native to Nova Scotia, my wheel thrown and assembled pottery is decorated with slip, sgraffito, under glazes and polychrome food safe glazes. The wheel, as primary forming tool, is integral to the symmetry of forms and details; such as the finials on the flower bricks which mimic growth patterns in nature. The pottery forms are assembled from wheel-thrown parts using "cut and paste" technique characterized by gestural throwing lines, dynamic volumes and structural seams. The surfaces are treated with brushed white slip, sgraffito, under glazes and polychrome food-safe glazes.
The vast history of pottery traditions continues to inspire me as much as ceramic materials and processes enable innovation. Over the years, my pottery forms have taken cues from various cultures and periods in ceramics history, from Minoan pitchers to Yixing teapots to English majolica and Arts and Crafts Pottery. Surfaces have been influenced by Italian renaissance maiolica, to Iznik and Moroccan zellige tiles. The development of surface pattern began at a winter residency at La Meridiana in Tuscany in 2004 resulting from hands-on research of Italian renaissance maiolica pattern. Since then, direct observation of ornament and tiles in my travels to Turkey, Morocco and Spain have influenced surface pattern.
Observation of natural phenomena and its mediation through ornament and building processes drives my form and surface relationships. The variables of form and surface possibilities offer the potential to layer meanings and influences. Shape and surface compositions may evoke memories of a glimpse in the garden, architectural detail, or a flower in full bloom.
Observing the wonder of nature transports us from the daily grind while the practice of "use" brings delight to our domestic experience.
It's all about quality of life as lived.